Uniform Price List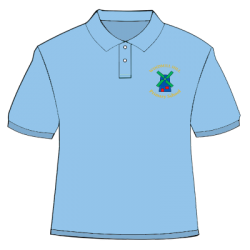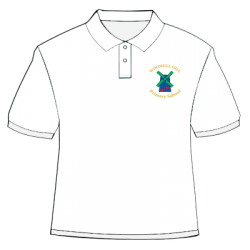 Acceptable Uniform
White or Sky Blue Polo Shirt (preferably with school logo)
Sky Blue Sweatshirt with school logo
Sky Blue Cardigan with school logo
Black Trousers or Skirt
Black Fleece Jacket with school logo (available from the school office)
Sensible Shoes or Smart, Black Trainers (no high heels please).
In the Summer boys may wear Black Shorts and the girls may wear a Blue and White school Summer Dress.
Acceptable P.E. Kit
White T‐shirt and Black Shorts
Trainers or Pumps
Tracksuit or Jogging Wear for Outdoor P.E.
Swimming Kit
Swimming Costume or Trunks/Swimming Shorts (Long Swimming Shorts are not allowed)
Towel
Swimming Goggles will only be permitted with a doctor's note!
All Key Stage 2 children attend swimming lessons at some time during the school year. Swimming lessons are compulsory, as part of the National Curriculum.
*A note is required from parents if a child is unfit for a swimming lesson.
Jewellery and Personal Property
No jewellery should be worn except watches or stud earrings. Parents must take responsibility if an accident involving jewellery occurs. Children should not bring any personal property to school with them other than what they need for the school day. Neither members of staff or Governors can be responsible for the safe keeping of any items of jewellery or personal property brought into school.